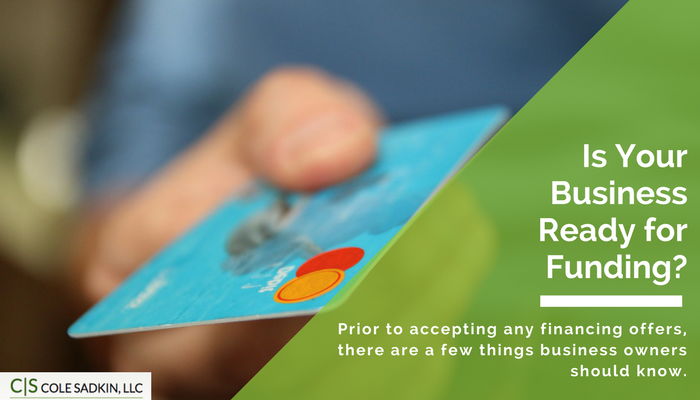 31 May

Is Your Business Ready for Funding?

Entrepreneurs eager to launch their startup should take advantage of today's low interest rates to entice venture capitalists to fund their ideas with the current "cheap money." The economic climate is creating an environment for high-net-worth investors to invest in companies before interest rates rise. However, with so many funding options available to today's entrepreneur, venture capital may not be the perfect fit for every company. Prior to accepting any financing offers, there are a few things business owners should know.

When to Seek Funding

Many entrepreneurs rush towards obtaining additional funding when their business may not be ready for the rapid increase of resources. Before seeking funding, ask yourself if you need the extra capital. Determining if your business truly needs funding can save your company from a lot of headaches and potential profit loss. Prepare the necessary groundwork before seeking funding such as, a strong credit history, a bulletproof business plan (complete with growth projections and positive ROI), a reliable team of employees and a consistent stream of revenue. While those are not the only aspects of preparing for taking on additional funding, it is a good start to ensure the timing is right for healthy growth.

Choose the Best Funding

While venture capital could be the boon a startup needs to realize success, it may not be the best option for every business. Attend networking events and speak with other entrepreneurs of similar businesses to obtain a deeper understanding of different funding practices. Every business is unique, and so are its needs. Properly researching all of the available funding options, beyond the most common avenues, is what every business should do prior to accepting funding.

A Small Business Administration-backed loan is one type of reliable option that most entrepreneurs pursue. The loans are easy to obtain, have long repayment periods and low interest rates. Since the loans are government guaranteed, they have favorable borrower terms. SBA-backed loans require a lengthy lead time, so if the business needs the funds now, this may not be the best option.

Lines of credit are another common financial route a small business can choose. This is a great option for businesses that need to increase their daily cash-flow needs, but it is not the solution for large purchases. A line of credit allows an entrepreneur to take on enough money for what they need, and they will only pay interest on the capital that is used. Lines of credit have long repayment terms with reasonable interest rates, and make for a good way for young entrepreneurs to build their credit rating.

A popular format of funding is venture capital. This is when a venture capital firm expresses interest in a small, budding startup and grants it a significant sum of money in return for ownership. The venture capitalist will collaborate with the entrepreneur to rapidly grow the business. While this may be a miracle for some companies, it is not for every startup. Be mindful of how much ownership is required to sacrifice, and exercise caution when rapidly expanding the business.

Capitalize on Venture Capitalists

If venture capital is the right financing option for your company, then there are a few steps to take before beginning your search for the right investor. Venture capitalists love to find small companies with strong management and large market potential. When seeking this style of funding, be prepared to prove that you have a competitive, unique product that fills a void in the marketplace. In exchange, they will want a percentage of ownership in the company. If you prove to an investor that your startup is ready to jump to commercializing its innovation, then you are more likely to attract venture capitalist funding. Conducting extensive research on which venture capitalists to pitch to is essential. Sending out bulk, generic emails will not capture their attention. Research what each venture capitalist has previously invested in, as this will detail many clues on where they want to invest their money.

Identify the best financing strategy for your company before rushing into any decisions. Create a business plan to project market expansion and objectively analyze your company, as this will help determine the best financing path to pursue. Collaborating with legal counsel that is experienced in working with small businesses can provide many long-term benefits for the future of a company. Establishing thorough and proper groundwork at the start of your business can help you avoid many complications, especially when it comes to funding.