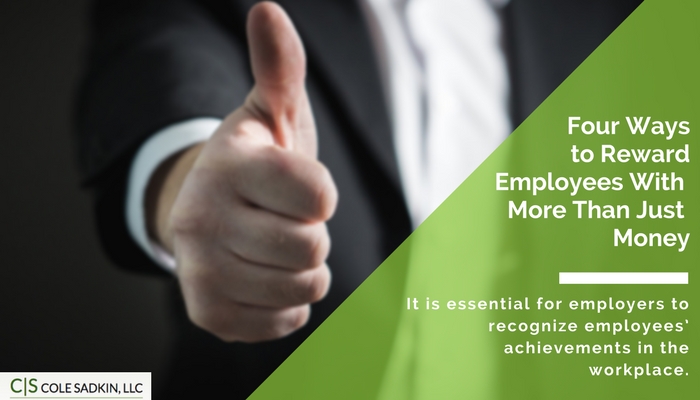 11 Feb

4 Ways To Reward Employees With More Than Just Money

It is essential for employers to recognize employees' achievements in the workplace. Simply giving them a pay raise is one way to show appreciation, but many companies are leaning towards other incentives to keep their top talent happy and engaged.

Here are a few ways to reward your employees for their accomplishments:

PTO and Extended Weekends 

Finding a work/life balance can be an ongoing struggle, especially for employees with families. Giving an employee a day off is great way for them to reset and have more time to take care of responsibilities outside of work. Many companies have implemented a rewards program where employees can earn free days and use them whenever they want throughout the year.

Wellness Programs

It's no secret that healthy employees perform better at work. Recently, companies – both large and small – have been creating new health and wellness programs to keep its employees in top shape. For example, Google keeps its 57,000+ employees in shape by providing exercise classes and on-site physicians. Smaller companies, like Honest Tea with 40 employees, offer wellness seminars and weekly boot camps.

Flexible Hours

Flexible hours are a prized possession for employees who earn it because it allows them to decide when and where to work. However, you may need to set some ground rules in order to make sure the work is getting done in a timely manner. One option is to give employees a specific amount of time they need to work, but allow them to create their own work schedule.

Tuition Reimbursement

Employees look to enrolling in formal education or training courses in order to move up in the workforce. However, this can be very expensive for them. Some companies will pay for an employee's education, with the agreement the employee will continue working for the company and eventually be given a promotion. This has become a common workplace perk in order to retain and grow top talent.

Once you get past a simple cash reward, there are plenty of opportunities for companies show appreciation for their hardworking staff. Please feel free to reach out to Cole Sadkin to discuss the best options for your company.