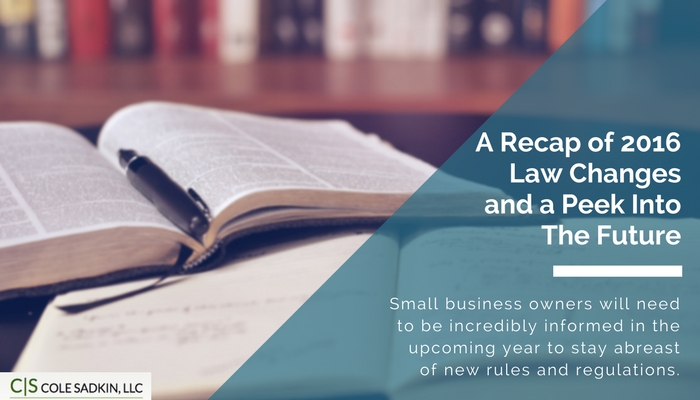 11 Feb

A Recap Of 2016 Law Changes And A Peak Into The Future

Small business owners need to be constantly aware of the changing business landscape to avoid potential consequences. From employee law changes to paid sick leave, there were quite a few shifts that occurred in 2016. Here is a quick recap of important law changes, as well as a preview of what is to come in 2017.

Overtime Protection

One of the biggest changes in 2016 is the Overtime Protection Law, beginning Dec. 1. Under the new rule, the overtime exemption salary level was raised from $455 to $913 a week, or $23,660 and $47,476 respectively. The law affects any and all employees covered by the Fair Labor Standards Act, as long as they meet or are below the indicated pay threshold.

Tip: It is worth a deeper look into your employees' salaries to see if it makes sense to raise their pay rather than work in overtime costs.

Paid Sick Leave

The new Paid Sick Leave ordinance, passed in 2016, will vastly alter employee sick time when it takes effect on July 1, 2017. Chicago employees who work at least 80 hours in a 120-day period will accrue paid sick leave at a rate of one hour per 40 hours worked. Sick time is awarded from the first day of employment and can be used 180 days after the start of employment. Workers cannot exceed 40 hours of paid sick time, but up to 20 hours can be rolled over into the next calendar year.

Tip: Remember, employers will need to clearly display the Paid Sick Leave ordinance in a visible location in the workplace.

Coming in 2017

Many experts predict Chicago will introduce a law to require employers to provide commuter benefits — similar to a ruling already in effect in New York and San Francisco. Another hopeful bill for 2017 is the Pregnant Workers Fairness Act, requiring all employers to provide reasonable accommodations for limitations resulting from pregnancy or childbirth.

Tip: Stay involved in your local government and small business organizations to see how you can impact these local rulings.

The outcome of the 2016 election could potentially have a major impact on employee leave, healthcare and a variety of other issues. Small business owners will need to be incredibly informed in the upcoming year to stay abreast of new rules and regulations.