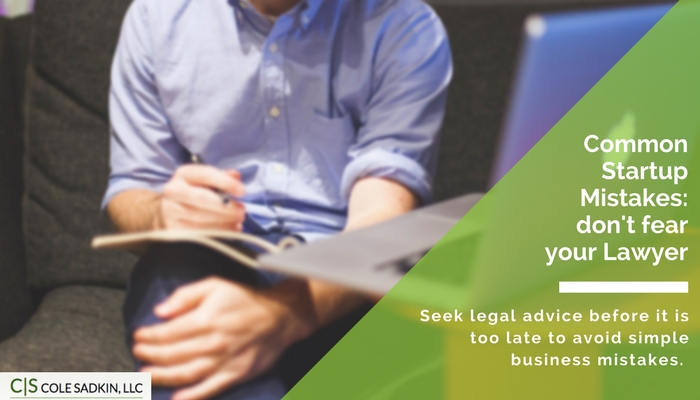 11 Feb

Common Startup Mistakes: Don't Fear Your Lawyer

Starting a business can be scary and intimidating. Business owners fear the high and unforeseen costs associated with consulting an attorney.  As a result, they avoid seeking legal advice until it is too late to avoid simple business mistakes.  By the time many of our clients come to us, they are struggling from mistakes made early on before they considered obtaining counsel.  Here are some common mistakes that occur regularly:

Improperly Filing Your Entity

Without properly filing the documentation with the Secretary of State, new business owners leave themselves open to personal liability, as well as fines associated with accidental dissolution.  Small business attorneys can ensure that the documentation is filed properly and maintained in order to eliminate operational headaches.

Forming Partnerships Without Documentation

New business owners frequently create partnerships with friends or family, and they provide no documentation detailing the partnership.  Trust is the main reason owners start companies with friends and families, and a lack of trust is associated with hiring a lawyer.  But lack of documentation leads to anxiety and uncertainty as the company grows.  Once there is a legally binding partnership agreement in place, all disputes are governed by the document.  This helps eliminate conflict between partners.

Using Free Legal Forms from the Internet

Many start-up businesses fall prey to the temptation of free legal documents found on the Internet.  While in many cases, having a contract is beneficial; there is no point to having one if the contract is unenforceable. It is money well spent to have an attorney draft an enforceable contract.

While attorney's fees can seem intimidating, there are many cases where paying a little up front will save small business owners a lot in the long run. Something to consider when starting a business is whether or not you are willing to take the proper steps to protect yourself and your business or if you want to risk it all to cut corners.  We work with clients at all stages of their business to help them navigate these simple pitfalls.  Feel free to give us a call, and we would love to talk about yours.