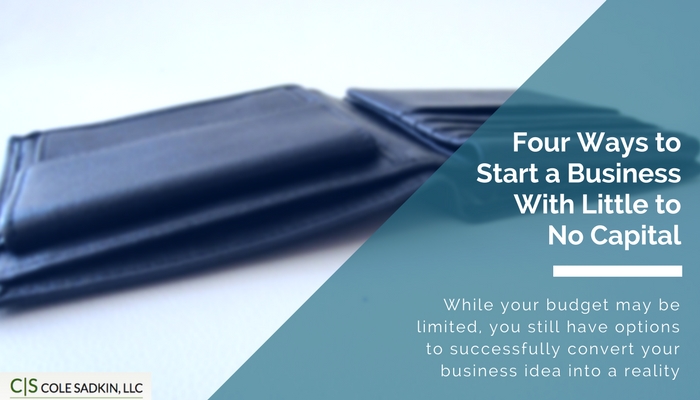 11 Feb

Four Ways To Start A Business With Little To No Capital

Do not put your business ideas on hold simply because you feel you do not have enough capital. If people are willing to purchase your goods or services, then it is worth it to work your way through the challenging early stages of building a business. The effort you are willing to put forward is what ultimately differentiates a successful startup from a failed dream.

Pursue Capital

There are dozens of ways to raise capital if you do not have enough saved up to start your business. The first choice is to ask friends and family, but if that is not an option, angel investors and venture capitalists are avenues to pursue. These entities will invest in a young company in return for partial ownership, which is a sacrifice that may be worth taking. However, investors may want too much of your company, so be careful to accurately value your business. Crowdfunding is another route, but stay cautious as too many small investors can ultimately be too many cooks in the kitchen. If you can demonstrate stable cash flow, you can turn to the banks and open a line of credit. Be mindful of how much you spend, however, as interest rates and balloon payments can become a problem.

Reduce Spending

Building your business around your skills and knowledge will help you both financially and logistically. If you are the expert in your business, you will be better prepared to manage it yourself without tapping outside resources. This will cut costs dramatically when you do not have to rely on consultants or other experts. Cutting out any unnecessary expense is essential when you have limited funds to begin with, and it is crucial if you have a credit line. Frugality can be the difference between staying above water or plunging into debt.

Network, Network, Network

Take advantage of your free marketing opportunities such as social media and local media contacts. Spread the word of your new business through your friends, family and social media. You never know who may be able to introduce your brand to a beneficial professional contact or an investor. Befriend as many local media contacts as you possibly can and be responsive in your communications with them. This opens the door to them branding you as a local authority and thought leader, and it generates plenty of free publicity.

Sweat Investing

Your success will directly correlate to your hard work and effort, which will drive your business to success or into the ground. When you have little to no capital to start, you will need to go the extra mile to achieve success. There are no set hours each week, meaning you will have to put in the work as it takes to realize any gains.

While your budget may be limited, you still have options to successfully convert your business idea into a reality. If you would like to discuss more, feel free to contact us.