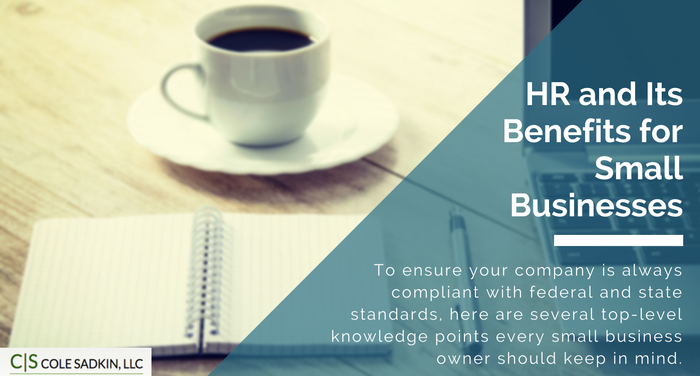 11 Feb

HR and Its Benefits for Small Businesses

Human resources departments seek to cultivate strong relationships between a company and its employees while keeping a constant watch on changing regulations. Unfortunately, most small businesses aren't able to employ their own HR department to keep track of the list of employment laws. To ensure your company is always compliant with federal and state standards, here are several top-level knowledge points every small business owner should keep in mind.

Employment Law

Title VII of the Civil Rights Act of 1964 (and subsequent amendments) is the centerpiece for any human resources knowledge, action and documentation. This act and its subsequent amendments, in basic terms, states that discrimination based on race, color, religion, sex and national origin is illegal. A complementary act is The Equal Pay Act of 1963, which mandates equal pay and criminalizes salary discrimination based on sex.

Tip: Anyone at your company acting in a position of hiring or terminating employees should know how to record these procedures to ensure compliance and avoid potential penalties and legal action.

Cost Control

Human resource professionals are trained to choose health care plans and other beneficial perks that will attract and retain employees. Why? Because it costs more to hire new employees than to retain current employees, especially for small businesses that tend to operate with a leaner staff. By spending money to obtain those benefits that retain, you will actually save money in the long run.

Tip: Think outside the box when it comes to employee perks. Offer volunteer time off (VTO) days so your staff can become more active in nonprofit work. This encourages a better work/life balance and demonstrates your commitment to bettering the community.

Legal Protection

Laws pertaining to wages, discrimination, disability, etc. are constantly changing, and it can be difficult to keep track. It's important to understand that many of the rules apply only under specific conditions, while others apply to all employee-employer relationships. The Department of Labor offers a comprehensive website that provides a closer look at ongoing laws and regulations.

Tip: Click here to review the latest changes in overtime protection.

Businesses across all industries and of all sizes must stay abreast of any legislative changes to minimize risk, expenses and cultivate a positive culture with its employees. Click here to read about upcoming changes all employers should be aware of in 2017.