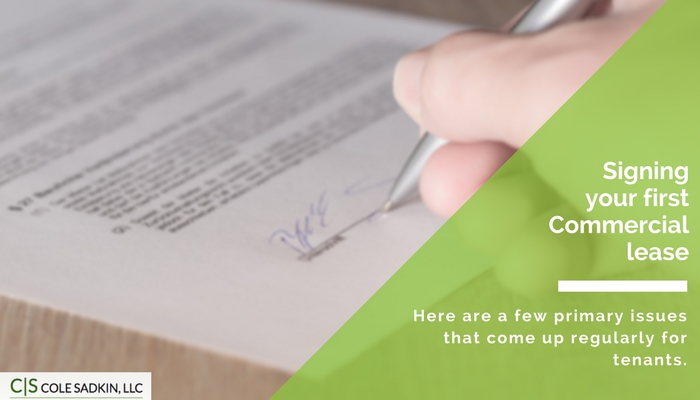 11 Feb

Signing Your First Commercial Lease

Congratulations on finding a space for your new business!  Whether you are opening your doors for the first time or expanding to a ten-thousand-foot manufacturing hub, you need to understand your obligations to your landlord.  Can you exit your lease if you cannot make your payments?  Are you allowed to sublease to other businesses?  When can you access the building after-hours? Here are a few primary issues that come up regularly for tenants:

Read the lease (again).

Landlords have attorneys who are paid to understand the ramifications of this long-term agreement. You need to understand whether you have the ability to exit if needed, and you may be signing a long-term contract without understanding all the nuances.  If you can't read the small type, ask the landlord to provide an easy-to-read version.

What are your obligations to sublet? 

Commercial leases do not have a lot of the protections for subletting that are provided by statute to residential leases.  Make sure you have written direction regarding whether you can sublet your unit.

What rights do you have to abatement?

Is the landlord liable to fix the problems if a pipe bursts in your unit?  Can you receive rent back if you cannot access your unit?

Can competing tenants move in?

Can your landlord allow for competing businesses to occupy the building?  If you are a dentist, you don't want your landlord renting to three identical dental offices next door.

Reviewing your commercial lease is an exciting first step towards growing your business.  Make sure you understand the language prior to signing.