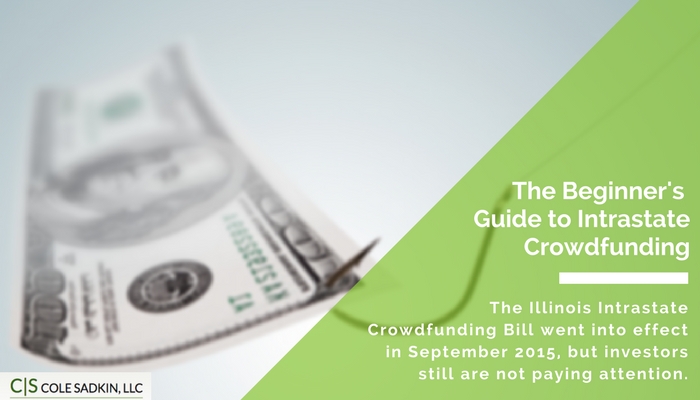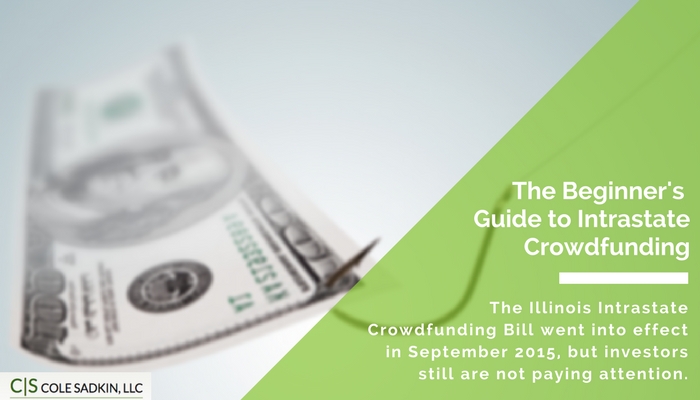 11 Feb

The Beginner's Guide To Intrastate Crowdfunding

The Illinois Intrastate Crowdfunding Bill went into effect in September 2015, but investors still are not paying attention. This is mostly because not many people know what intrastate crowdfunding means or what it does. Here are a few pointers regarding this investment legislation that could open the floodgates to a wide range of capital for Illinois entrepreneurs.

Big Deal for Small, Local Businesses

Before this Bill passed, fundraising campaigns like Kickstarter and Indiegogo allowed you to invest your money in a startup in exchange for physical products or other tangible benefits in return. The Crowdfunding Bill now allows for that same investor to receive an equity stake of the company. This is a precious privilege available only to accredited investors, i.e., rich, educated, experienced gurus. The Crowdfunding Bill allows local businesses to gain much needed capital, supporting job growth and revenue in the state of Illinois.

Different States, Different Guidelines

While entrepreneurs were waiting for federal regulators to draft the rules on national crowdfunding, state lawmakers decided to take action and permit in-state businesses to raise money from local residents. Currently, each state has its own set of rules and regulations when it comes to crowdfunding, hence "intrastate". For Illinois, certain regulations include: non-accredited investors in Illinois can write a check to local businesses, but it cannot be more than $5,000 per company per year; Illinois companies can raise up to one million dollars (or in some cases four million, as long as investors are provided with audited financial statements).

Limitations

As convenient as intrastate crowdfunding sounds, it's not always the best option for businesses. When it comes to advertising your company, there are some regulations put in place by the Securities and Exchange Commission. In April 2014, the SEC prohibited businesses from using social media to promote investment opportunities, since such content marketing could reach an out-of-state audience. The consequence of doing so could be the loss of intrastate exemption. The rule is that social media can be used solely to promote their business if they're involved in intrastate crowdfunding. Another limitation is that you have to be an accredited investor in order to make investments larger than $5,000 per company.  These transactions must take place through a certified online portal.

Potential investors will take advantage of the opportunities provided through intrastate crowdfunding once the practice becomes widespread. If you're thinking about taking advantage of this new legislation, then speak to an attorney first. State and federal crowdfunding laws are always changing. It's important to have an attorney to keep you up to date, as well as help you take the necessary steps in order to secure an investment.