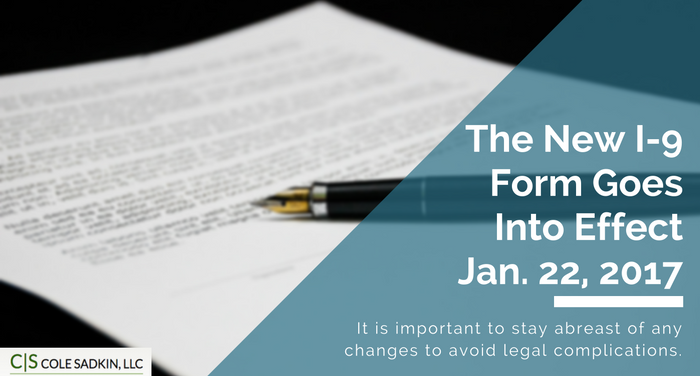 11 Feb

The New I-9 Form Goes Into Effect Jan. 22, 2017

Beginning Jan. 22, a new form goes into place that will improve the speed and accuracy of completing the I-9 form. Overall, this is a great thing, but it can present issues for small businesses without a dedicated human resources department to keep on top of all the new changes.

What is the I-9?

The Immigration Reform and Control Act (IRCA) refrains employers from hiring people for employment in the United States without confirming their identity and employment authorization on Form I-9.

What Has Changed?

In November of 2016, the U.S. Citizenship and Immigration Services (USCIS) revised the current I-9 form. The changes are designed to reduce errors throughout the process by making it easier for employers and employees to complete it.

When Do I Need to Start Using the New I-9?

The new form must be used for all employees hired on or after Jan. 22, 2017. In addition to using the form for newly hired employees, the re-verification of an employee on or after the elicited date will need the new form. Should that happen, Section 3 of the new I-9 form must be completed and attached to the employee's original I-9. Employers should not have to complete a new I-9 form for existing employees unless they have sufficient justification, such as the reasons above.

What Information is Needed for the New I-9?

The purpose of the form remains the same, as does much of the information that is required. However, it is important to note that employers may not require employees to present certain information and documents to prove employment eligibility. Requiring improper documents of employees may cause legal complications.

While there are no significant changes to the overall I-9, it will be legally required to use the most recent iteration of the form. The primary alterations to the document were to streamline the process of filling it out to avoid confusion and eliminate errors. With regular updates to old procedures, forms and practices, it is important to stay abreast of any changes to avoid legal complications. Retaining legal counsel is a safe and efficient way to keep your business operating smoothly and safely.