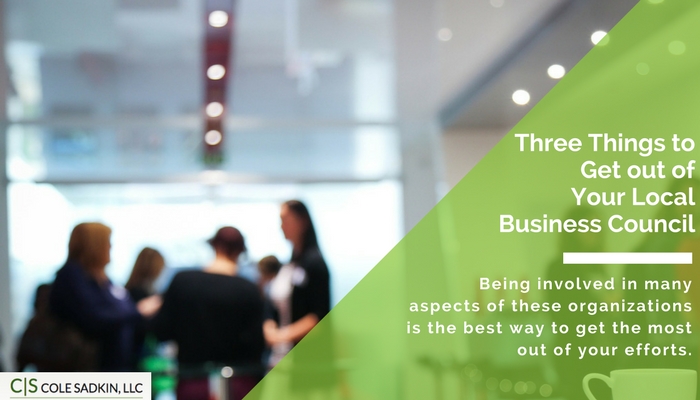 11 Feb

Three Things To Get Out Of Your Local Business Council

Acquiring a membership with a local business council, or Chamber of Commerce, provides a variety of benefits: connections, relevant learning opportunities and a platform for your voice. Being involved with organizations such as these, can provide your business with many lucrative opportunities.

Building Connections

Networking and building connections can be the golden ticket to a new conversion, client or lead. Being an active member with your local business council grants you access to a highly targeted audience of other owners near your company. The people you meet at your local associations or Chamber of Commerce may become a client or lead you to other connections that can help grow your business.

Access to Learning Opportunities

Business councils and Chambers of Commerce offer learning opportunities through events, panels and workshops to help business owners hone essential skills. Experts from local business often speak at events offering up great advice — it is even possible that you may be a speaker, establishing yourself as a local expert. The busy schedule of a business owner makes it difficult to stay abreast of issues affecting your company, and these organizations are a premium knowledge resource that can help you remain informed and focused.

Let your Voice be Heard

Business councils and Chambers of Commerce act as a platform for your voice to be heard. There are often events scheduled through these organizations that allow you to meet and speak directly with state officials regarding relevant policies. Potential clients and customers also love seeing a business work to better their community. A membership with one of these organizations can help your brand gain credibility among the community. The more people that see and trust your business, the better.

Membership to your local business council is a great way to receive exposure. While there are plenty of benefits that come with simply being a member, there must be an active effort to reach potential rewards. Being involved in many aspects of these organizations is the best way to get the most out of your efforts. They also provide a channel to reach new connections – such as a lawyer – who can give you the inside trade on any upcoming legal issues that may affect your business.