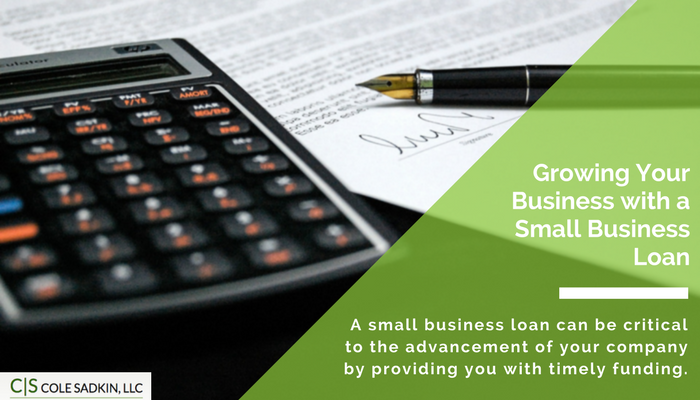 19 Apr

Growing Your Business with a Small Business Loan

Banks understand that small businesses are the backbone of the economy. However, obtaining a loan from a bank is not as simple as asking for it. The current financial climate is favorable to obtaining funds as interest rates remain low. However, there are still lengthy application processes to go through, as well as other hurdles. So what does a small business need to know about loans?

Understand Every Detail

With a variety of loan options available to small businesses, each containing its own set of advantages and disadvantages, it is critical to understand every detail of the loan. Pay special attention to the interest rates as they will vary from bank to bank and loan to loan. (It is heavily recommended that you find a second or third quote to compare before obtaining a loan.) Conducting the necessary and thorough research beforehand can position your business for success.

Consider Your Options

Banks are not the only option available for additional funding. Loans are offered from accredited, Small Business Administration-backed lenders, which are government-guaranteed business loan programs. They traditionally offer lower interest rates and longer repayment periods with reasonable Annual Percentage Rates (APR) around 8%. The terms in these loans are very friendly to businesses. However, they are not easy to receive and often have high requirements and a time-intensive application process.

Online lenders can also be of benefit to small businesses, as they can offer loans up to $500,000 for short- and long-term collection periods. Online lenders offer fast funding and a leaner application process. However, they are not always as transparent as a bank. When pursuing this option, ensure that you will be able to repay the loan in the allotted time, as the APR can range from a reasonable 9% to a harmful 30%.

Opening a line of credit with a bank is another option to consider. This can provide your company with short-term working capital. A line of credit will not charge you interest until you make withdrawals from the loan. Also, interest rates lean towards the lower side starting around 2% and increasing depending on credit rating, amount and the institution. However, lines of credit may require you to risk property in collateral.

Advantages and Disadvantages

A small business loan can be critical to the advancement of your company by providing you with timely funding. The increase in working capital allows a business to invest in a new location, increase in size without interrupting current operations. Loans can create the perfect opportunity to grow your business.

Remember, though, that they can quickly turn into a burden. High APR and short repayment periods can stress the finances of your business for months to come. Always research several loan options prior to accepting one, and ensure you thoroughly understand the repayment terms, penalties and interest terms.  


There are many options and variables to consider when pursuing a small business loan. Regardless of which option you consider, conduct extensive research before accepting one to ensure the best possible outcome for your business. Working with legal counsel to select a funding option can help you choose the correct terms that best fit the long term health of your business.