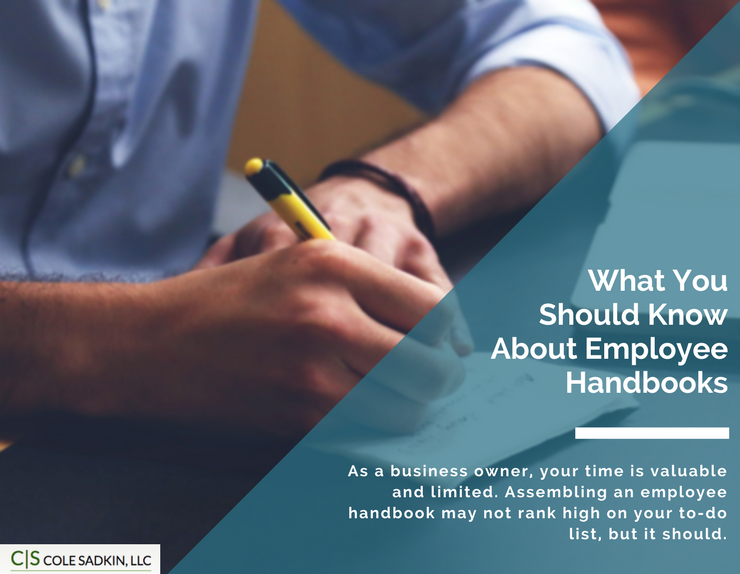 11 May

What You Should Know About Employee Handbooks

As a business owner, your time is valuable and limited. Assembling an employee handbook may not rank high on your to-do list, but it should. It is an important asset to your business, as it highlights many important policies, the culture of your company and it will ensure that every employee has the same information about the business' rules. The employee handbook also acts as a piece of legal protection should a complication ever arise. So, what does a business owner need to know about an employee handbook?

Where to Begin

The employee handbook consists of many different sections, some legally required and others are nice to have for clarity and general protection. A good first step is identifying what you care about, such as how your employees dress, confidentiality or behavior in the workplace. Once you know what you care about the most, it will provide a good start for writing the rest of the handbook.

Pro-Company Clauses

Outside of the legally required sections, there are certain clauses that every handbook should include to protect your business. Specifically, the language should state that the handbook is not a legally bound contract. Also, point out that the policies may be subject to change to allow for future adjustments. In order to effectively use the handbook as a legal defense in certain situations, adding an employee acknowledgment page will verify that your employees have read and agreed to comply with the handbook.

Legally Required Sections

Every employee handbook will have legally required. The requirements will vary from state-to-state, but a few are consistent at a federal level, such as family medical leave policies, equal employment and non-discrimination policies and worker's compensation policies. Other policies that may be required are disability accommodations, military leave, maternity and paternity leave and crime victim leave. (Regardless if they are required, these sections are still recommended.)

Protect Your Business

When creating the employee handbook, it is recommended to have a legal professional provide insight throughout the process. Having an attorney on-hand to assist with the creation of the employee handbook will not only give you more time to tend to the operation of your business, but it will ensure the content and policy language are written in a legally sound manner. An attorney will also know which sections to include in your handbook that you may not have previously considered.

An employee handbook is an important asset to the health of your company, as it can smooth out processes, provide clarity for your employees, organize another sector of your business and provide protection for your company. When building a handbook it is recommended to have an attorney that understands small business to assist the creation, provide insight and ensure protection for your business.